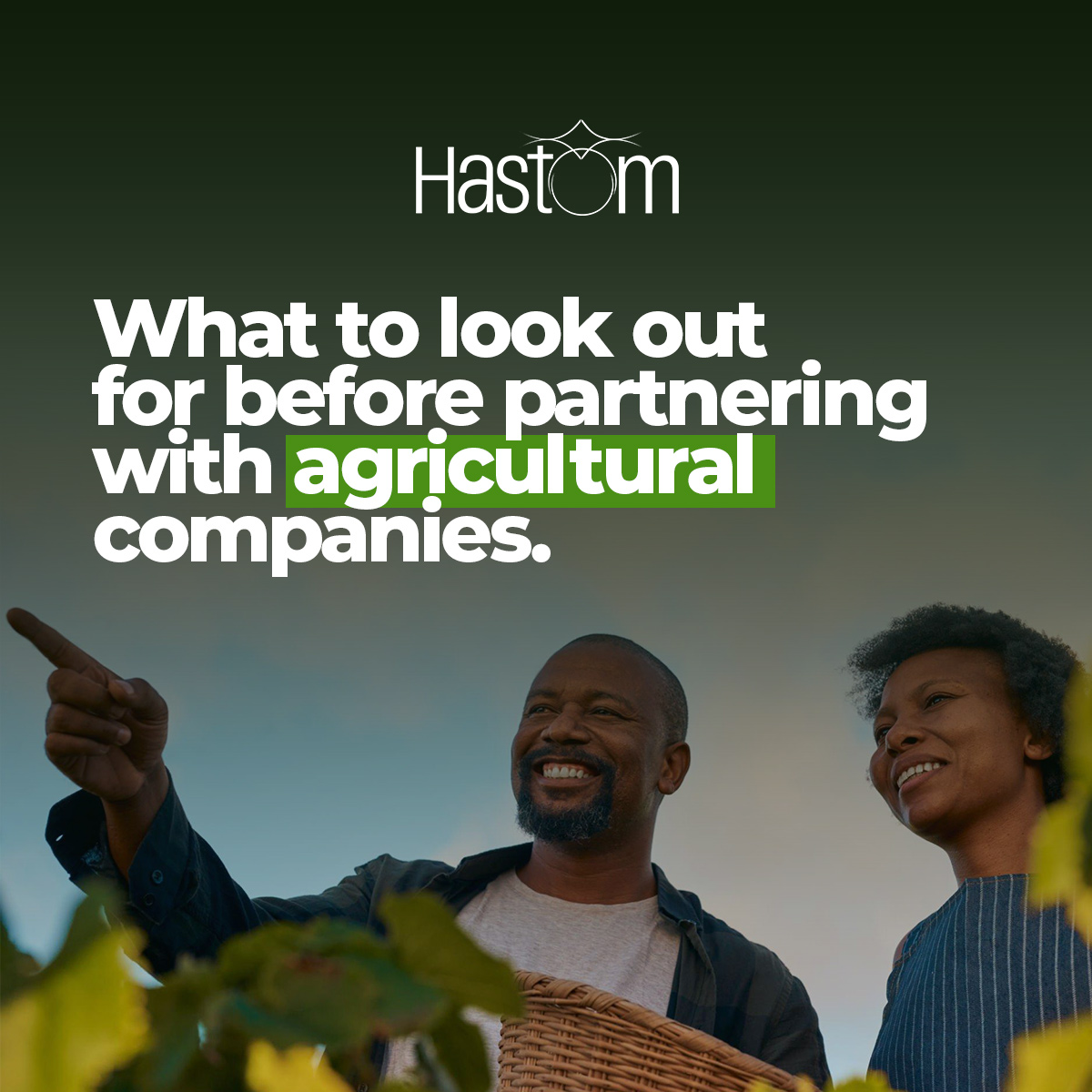 Agriculture is a major way of life for most as it is at the very foundation of survival. Nigeria is also not an exception so, it is normal for agricultural companies to pop up with offers to help you manage your funds most especially if you do not have time to to do the work yourself. In this article, we will consider what to look out for before partnering with agricultural companies.
With over 35 million hectares of arable land, agriculture is one of the Nigerian economy's most profitable and sustainable sectors, giving rise to food security, job employment, and poverty reduction. More investors today are taking up agricultural investments due to an ever-increasing global demand for food.
Agriculture doesn't offer minimal risk, it's high risk and highly profitable at the same time, but the risks can be managed to the barest minimum. However, the desire to invest in agriculture is one thing, knowing how to go about it is another.
Here are a few tips on what to look out for before partnering with agricultural companies.
1. History of the Agricultural Company
An inquiry into the history of the company can help you understand its track record. It would inform you of their commencement of business operations, the scope of operations they have carried out over time, as well as their successes.
You should also inquire into the company's mistakes and failures. It is very important to note that agriculture, just like any other business, has its risks, however, measures and practices of how the company has been able to recover and bounce back show how viable its operations are.  You should, however, be careful of agricultural companies without tangible, practical experience as well as traceable successes & failures.
2. Agricultural Specialization of the Company
Understanding where the company's strength lies is just as important as the company's history. Agriculture is a broad sector and can sometimes be divided into livestock and crop farming. Under livestock farming, we have poultry; for meat or eggs or breeding, piggery, fishery, and cattle rearing amongst others. Under crop farming, we have long-term (cashew, coconut, avocado etc) and short-term (maize, cassava, vegetables etc.) farming.
It's important to know that no company can do it all. A company's strength can either lie strictly in short-term crop farming, long-term crop farming, livestock farming, or a unit mix of these components but never all of it. For instance, at Hastom, our expertise is majorly in cashew farming, cassava cultivation & cattle rearing, this is not to rule out the fact that we have experience in other crops or livestock farming.
Knowing the area of specialization of an agricultural company gives you rest of mind as it implies that such a company has relevant knowledge and data to work with.
3. Company Management
It is advisable to look into the company's management as it is a critical factor to consider when making an investment choice related to agriculture. It is important to know who is running the company as well as even the experience or expertise of those under the management.
You would want to know how experienced they are, how long they've been in operation, their capabilities, their strengths, and their losses. Investing in a farmer-owned agricultural company is good, however, investing in a farmer-experienced company gives you an added advantage.
4. Mutual Interest
Investors and the agricultural company they partner must be aiming at the same goal or have mutual interest.
Ultimately, the purpose of any business or partnership is to make a profit, however, there are so many ways to make a profit in agriculture and partnering with an agricultural which shares a mutual interest with you would give you a form of assurance of business success.
For instance, you can partner with a livestock farmer to raise cattle stock to feed his beef processing facility or set up a cashew farm under a cashew farm company to cater for their aggregation & trade unit or feed their processing unit.
5. Business Model
Another important thing to look out for is the business model in which the company operates. You should clarify if the scope of business operation is a form of crowdfunding (you don't own anything on the farm, but your money is invested until you secure the returns later) and have met the requirement as required by SEC; if it is a form of a joint venture (where the company & investor share resources, for example, the company owning the land and providing cassava set up and management services for the investor for a said period of time to share profit at an agreed ratio), or if it is a farm management operation (whereby you own the farm while company manages on our behalf).
Understanding the business model provides you with the knowledge about the competitive edge of the company and provides better insight into the working of the company on how they create, capture & deliver value.
6. Location of Development
If you're looking to make significant success and profit in your agricultural investment, then you must consider the location of the project. You should ensure that your farmland is in an optimal location with access to all the necessary resources needed for seamless running.
You should inquire about the company's farm operation, location, as well as whether studies have been carried out on the soil type, average rainfall, wind, insects, irrigation, and any other factors necessary to cultivating the crops.
In Nigeria, for instance, the present flooding affecting the country has made a huge dent in farms, especially those in the North and South East. To this end, more farmers and investors are looking to the South West to own farmland or expand their agricultural interests.
In determining the right geographical region, it is also needful to know what kind of crop can thrive there. For example, it won't be smart to cultivate cashew in a state like Akwa Ibom or Lagos. This is because there are a number of factors such as climatic conditions, soil state, etc. in the regions of these states that may not favour such operations. A suitable location, such as Ogbomoso in Oyo state of cashew farming is critical to guarantee good returns.
Conclusion
Now that you know what to look for in an agricultural company, what are your goals for investing in agriculture? For most people, retirement is at the top of the list, however, some would like to have a diversified portfolio, whatever the case may be, Hastom specializes in providing expert advice and support to such individuals and is readily available to guide you through this journey.
We understand that farming is more than a passion for our clients – it's a business.
Contact us today to learn more about our services and how we can be of assistance.