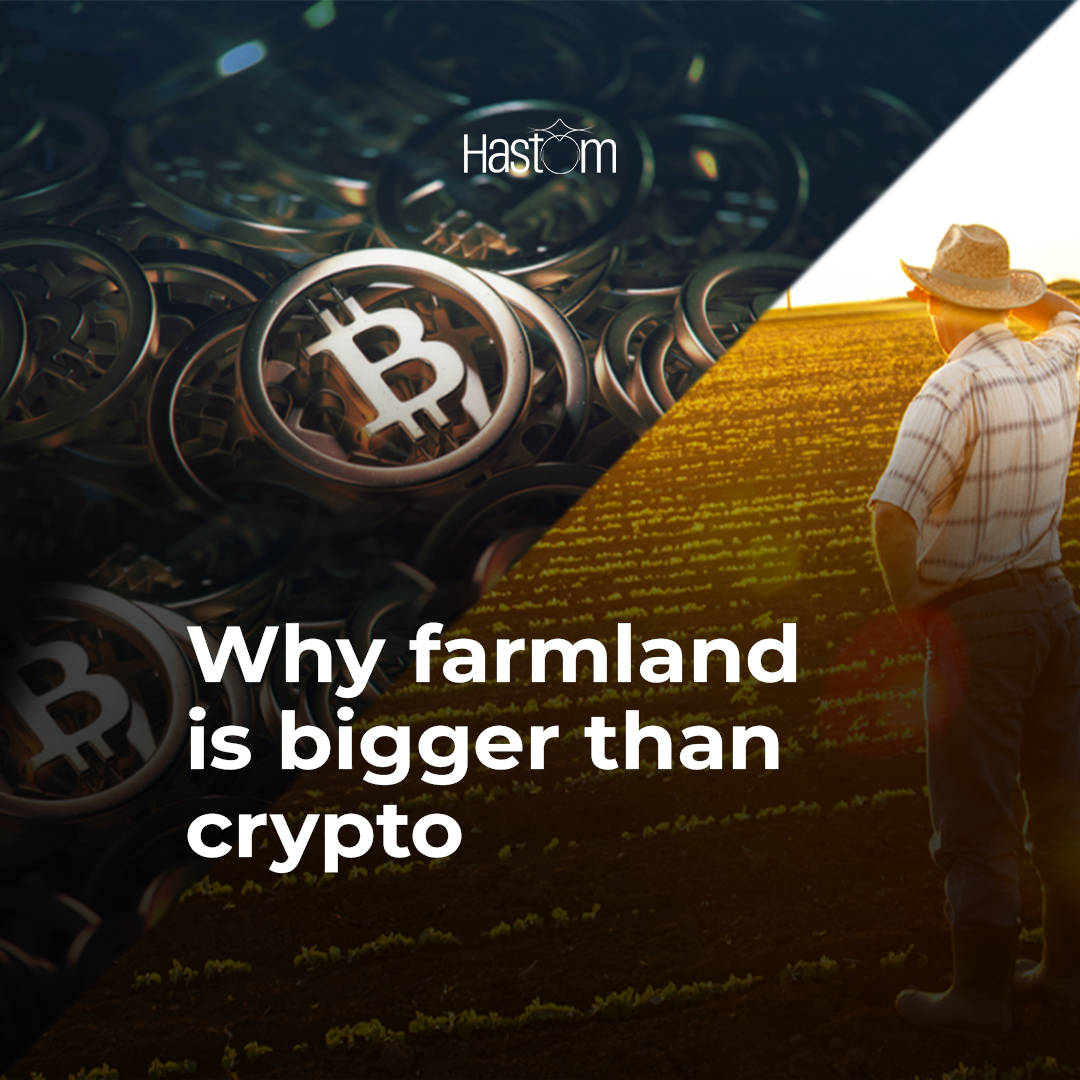 Farmland is gaining a lot of attention in the investment world. But why?
Farmland is becoming widely accepted to be the best yet overlooked form of real estate & increasingly important as the world's population grows. For investors looking to diversify especially in an uncertain economy, farmland is a sure bet worth exploring. 
Cryptocurrencies on the other hand are fundamentally a deflationary asset that is extremely volatile and has an unpredictable nature. 
THE STABILITY & INFLATION PROOF NATURE OF FARMLAND.
When it comes to farmland, there is an undisputable factor that sets it apart from cryptocurrency: STABILITY.
Farmland is a physical asset that remains stable in times of inflation & recession. In fact, the value of farmland tends to increase as the cost-of-living rises, making it an ideal investment for those looking for long-term stability.
Unlike cryptocurrency, farmland has been in existence for years and have generated stable returns for decades prompting billionaires like Bill Gates who want a steadily appreciating alternative asset in their portfolio to amass thousands of acres of farmlands.
FARMLAND HAS AN INBUILT DEMAND      
The best investment opportunities are those that have demonstrated demand. Farmland has been a reliable and demanded investment for centuries, and for good reason.
The need for sustainable agriculture will skyrocket in the coming years as population increases, and the amount of arable land around the world will not increase to meet demand which automatically implies that farmland is highly valuable. 
Cryptocurrencies are completely dependent on artificial scarcity and investor interest, making them inherently more volatile than farmland. 
So why not consider investing in farmland? They are not making any more of it.
FARMLAND, A REAL ASSET
Though farmland is less liquid than cryptocurrency, farmland as a real asset historically have low correlation with other assets, offer a hedge against inflation, can generate passive income, and tend to appreciate in value.
So much uncertainty surrounds investments in 2023, however, that we are certain about is more demand for agricultural commodities produced through farmland, making many industry leaders more bullish on farmland.
Agriculture isn't going anywhere soon, and land has to be cultivated to produce food. These two factors make farmland a safe and smart investment to make today.
HOW TO PURCHASE FARMLAND
You may be thinking, "OK, I'm convinced, rather than investing in cryptocurrency, Farmland is a great option. But how do I go about purchasing farmland with no unresolved historical issues?". 
It's actually stress-free, working with the right partner. Since 2012, Hastom has seen it as a point of duty to make available for purchase, well vetted, arable, problem-free and affordable farmlands with great road network, selling over 15,000 acres of farmland to both individuals and companies.
Ready to leverage on our efforts to own farmland today? Reach out to us via our available communication channels or call 08163013001